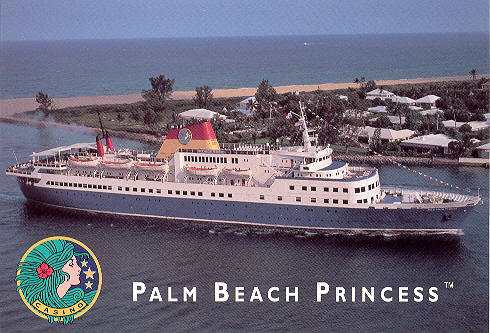 It rained like crazy starting at about 11AM on the 4th of July and continued all afternoon.
We had plans to meets our friends Bruce and Jack at their condo in North Palm Beach at 5PM to go out on the Palm Beach Princess, our casino ship in West Palm Beach. But the rained stopped at about 5.
We had a great time. They feed you alot. The barbecue dinner was fitting for the 4th of July and was really good.  Larry and I watched the show in the theater and took pictures while Jack and Bruce were playing the slot machines. Then they fed as breakfast at about 11. We had a great time.
The Pictures:
1: The view of North Palm Beach from Bruce and Jack's condo patio
2. A view of Singer Island from the ship
3. Bruce and Jack at breakfast
4. Gordon
5. Larry
6. The Palm Beach Princess